Graphic products for golf courses and clubs
Our team can vividly recreate your existing or projected course in perfect virtual reality, right down to the smallest detail.
You will be able to recognise the clubhouse, your customers' favorite restaurant, that tricky bunker or the pond with a fountain.
Trees swaying in the breeze, rippling grass, drifting clouds and murmuring creeks are just some of the realistic elements we can include to charm and delight you, your friends and your customers. They can familiarise themselves with the courses via screenshots, videos, smartphone apps or directly playing the course in the golf game.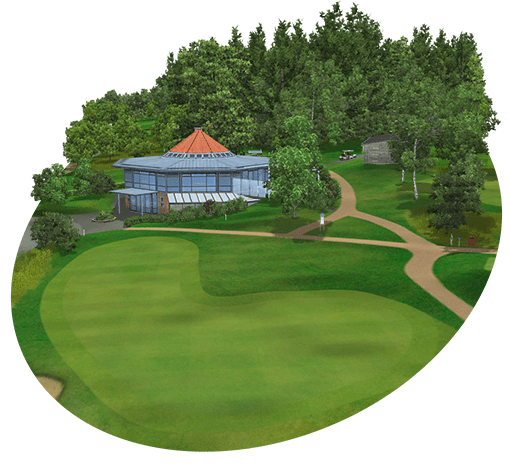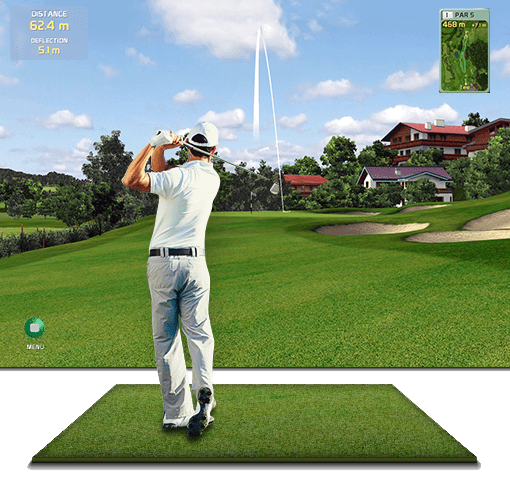 We present you a couple of products intended for golf clubs
Your course will also be included into the database of playable courses in the Creative Golf Game. Your future clients will have the opportunity to visit your golf course using their PC and get to know it better.
Your course will be playable on the following simulators:
SkyTrak – SkyTrak Launch Monitor
FlightScope – Xi, Xi+, Xi Tour, X2, X2 Elite, Range, X3, mevo+
Uneekor – QED, Eye XO
Foresight Sports – GC2, GCHawk, GCQuad
TEE-01 – TEE-01 Sport Simulatoren GmbH
Golfjoy – GDS-PLUS
Garmin – Approach® R10
We are able to create previews of the course even from positions that would usually require the use of aviation technology like for example, helicopters or an air baloon. These images and videos can be used for the presentation of your course either on the web or in some other kind of mass media.
This software allows you to generate a 3D isometric view for each hole, generating excellent and high quality materials that can be used for the further graphic processing of 3D Birdie Books.
The first step consists of creating photographs of the present state of your golf course. We can do this for you, but you will have to cover the travel costs of our staff. If your budget does not allow it, you can take the pictures yourself. Our manual makes it really easy to take these photos in the time span of one day.
In order to create a 3D model we need an ortophotomap with minimum resolution of 25 cm/pixel. Moreover, lots of golf clubs, mostly the new golf courses have these data. The biggest challenge is to get the altitude data of your course. If you have such data in your possession (for example from your architect or geographic company), this is not an issue. Otherwise, we will get in touch with a geographic company operating in your location.
Costs associated with the purchase of a digital model of the terrain vary a lot, mainly depending on the method used and accuracy of the measurement.
The rest of the work is done in our office. The project is finished and delivered within 3 months of signing a contract.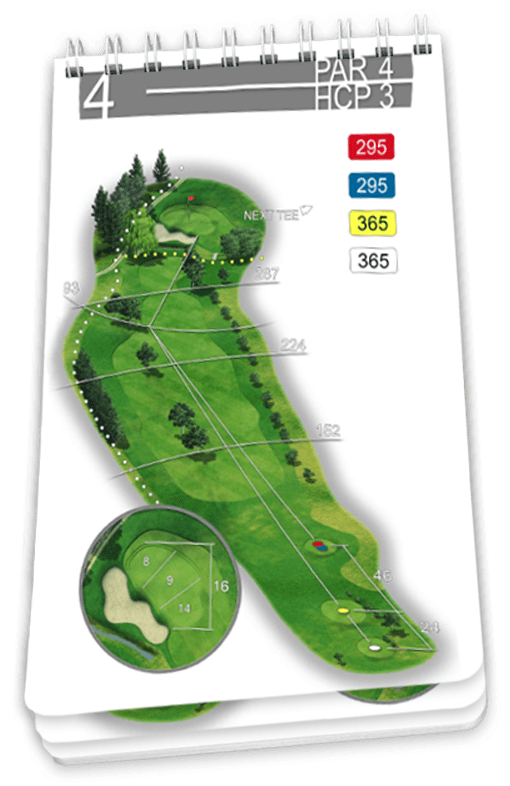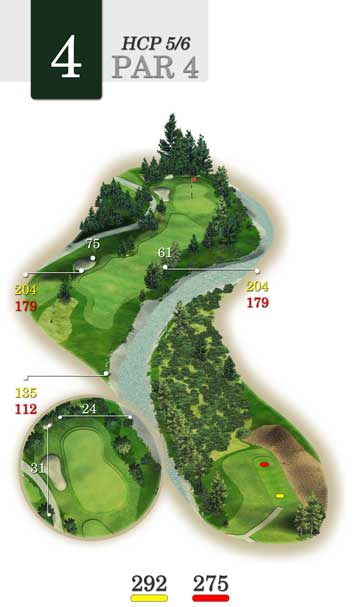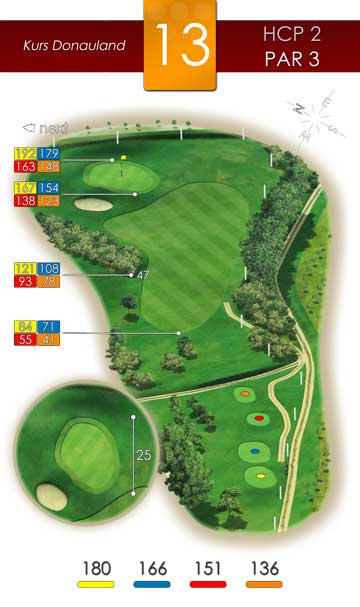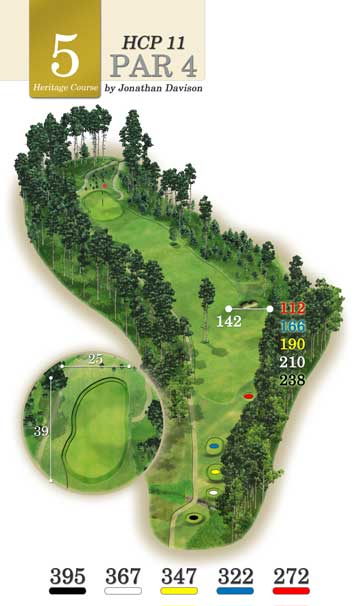 Overview
In addition to previews of individual holes, we can also create a view of the entire course suitable for information boards on the course or in the birdiebook. For example, information about the hole number and important places on the course can be placed in this view.
Digital Caddie for Golf Clubs
We offer you the creation of a Digital Caddie application for the iPhone and Android. It is intended to familiarise worldwide golfers with your course. Golfers can also use it for good orientation during the play because the GPS function provides their location of the hole map. It can also be used as an electronic score card with calculations of handicaps and for easy measurement of distances.
The application also provides unique visual features such as video Fly over Hole. There is also current weather information, directions in how to get to the course, online booking, birdie book pictures and other helpful information for golfers according to your requirements.
Photo maps for top view, videos for fly over hole and simulation of ideal play are generated from a detailed and accurate digital 3D model of the golf course.
The application is free downloadable for your golfers online at the App Store and Google Play.