Create your favourite course in our Editor
Creative Golf Editor software enables you to create golf courses that can be played in the Creative Golf game. You can use it to create courses for your own use, or a course can be added to our Course Library once we approve it.
Creative Golf Editor is automatically included with every Creative Golf license purchased for version 2.9 and above.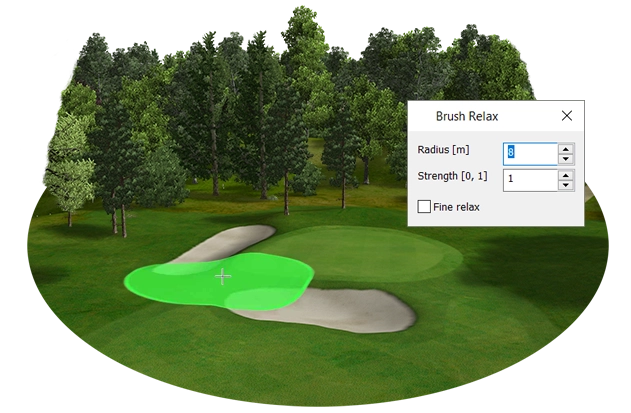 How to use the Creative Golf Editor
Creative Golf Editor is used to create models of golf courses, driving ranges and even maps for some types of games with it.
Creative Golf Editor is tied to the Creative Golf software license. Two installations of the Editor on two different computers can be used for modeling. Models created on this Editor can only be used on the software of the relevant license. The reason for this measure is to prevent the abuse of the copyrights of individual golf courses, names, brands, logos, etc. Only the author of the created model is then responsible for the abuse of such rights in the event of publication. The software provides a library of trees, grasses, objects, textures and other functions. However, it does not provide all the objects that occur on the supplied playgrounds, precisely for a similar reason.
However, we do not want all your models to be only part of your private simulators. We will be happy if you offer us the playgrounds you have created for publication in our Course Library. However, such golf courses must have permits for publication from the owners or managers and must have certain quality levels comparable to other golf courses in our Course Library. We will be happy to help you with your works with support, advice, modeling of some buildings, etc. If the golf course fulfills these conditions, we will offer you a reward in the form of a license of the software. It depends on the importance of the golf course and the quality of the execution.
Creative Golf Editor is easy to learn. A short video tutorial guides you through the process of creating courses, and if anything is not clear, you'll find the answer in the complete manual.