What's new in the Creative Golf 3D 2.8 update?
Note: Program update will keep your golf courses, individual program settings, and saved games. Upgrading to version 2.8 from a lower version of CG3D is free.
Attention: For Foresight devices, version 2.8 only for the Foresight account "FSX Live" owners with a valid license.
Improvements of CG3D 2.8 over 2.7
Graphic selection of the course.
Course selection according to the picture or according to the details of the course
You have the option to select the course for the game according to three views – either according to a simple "card" view with basic parameters, but also according to the detailed parameters of the course.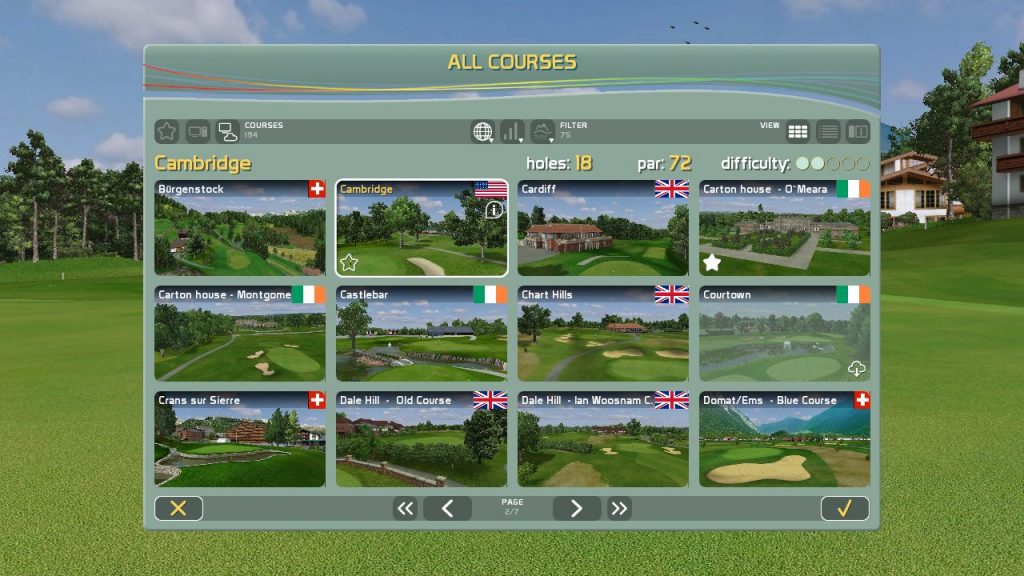 You can choose between
Favourites – to select favorite courses from your list
Filters – the possibility to filter courses by country, dificulty, type and scenery
An Up-to-date overview of existing golf courses
You will be informed about all the courses that are available. This includes the details of each course, description and photos.
An On-line download of new courses and course updates
Constant overview of new courses on offer and quick download of one or more courses directly from the program. In the event of a change of an already installed course, information about it is added in a quick update.
Custom setting of the playing area
If you need to have a different position of the ball for different types of strokes, in this version it is possible to fine-tune these launch points in the playing area.
It is possible to set the launch point for
Drive(Wood),
Putt
All other (Basic)
This setting is especially suitable for
the individual settings of the playing area, where the drive is fired from the tee, putt from the putting pad, and other shots (Iron, wedge) from other positions (such as fairway, rough …)
measuring devices that require a different launch point for a putt and another for a normal shot (e.g. Mevo+)
narrow playing areas, where it is necessary to move the player and shot placement for the driver shot more to the center of the playing space.
Other improvements and fixes …
Texas Scramble scoring fix, profile editing, and several other improvements.
Annual Subsciption
Now you can buy our software as Annual Subscription too.